The storm that ravaged Diamond Harbour in West Bengal greatly affected people's livelihoods. More than 50 houses were water-logged and damaged by the massive rain. People had to leave their homes and find shelter elsewhere. They lost most of their belongings and were struggling to meet their basic needs.
65kms away, the house help, who hailed from this area, shared his grief as well as the suffering of his people, with Swetank and Babita Shekhar, Promoters, STEP Foundation. The need of the people was dire and they decided to provide aid, whatever possible. They contacted their neighbours and people within their network. People came forward to help with clothes and household things.
Babita and Swetank coordinated the collection drive and had the clothes and other donated items distributed to the people in the Diamond Harbour area. These came at critical time for the recipients, providing some relief to the affected people.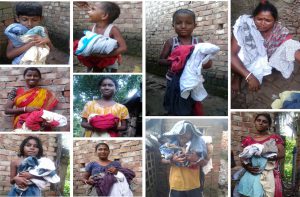 News stays a piece of news till the time someone acts on it. A bridge of hope would not have been possible without the support of the many people. We appreciate our donors for stepping forward and participating in the drive.
We extend our sincere gratitude to:
Pradeep and Mukti Gupta, New Town, Kolkata
Satya and Shikha Singh, New Town, Kolkata
Dinesh and Alpana, New Town, Kolkata
Anand and Anamika Prakash, Kolkata
Uma Kant and Ranjana Singh, New Town, Kolkata
Sangeeta Mohta, New Town, Kolkata
It is very heartening to see that when the world is in need, we all come together. To bring a smile to someone's face is the greatest reward and motivates us to better serve people in need, wherever possible.